Accommodation
This tour has been designed to allow maximum flexibility for the participants. The EVCC will not be collecting any fees from anyone for this tour. Each person will pay their own admission at each camping venue. Reservations have been made by the Tour Co-Ordinator for nights 1,2,3 and 4 at Cottonwood Bay, River Lea, Kingfisher, and Sicamous. When arriving at a campground, please ** EXHIBIT COURTESY ** and CHECK IN FIRST, paying your OWN fees, before setting up any camps.

Refer to the 'Budget' web page for approximate camping rates.

Please note that the Cottonwood Bay campground on the east side of Mabel Lake, where we will be staying on Aug 3, (Day 1), is operated by the BC Forest Service. It is required to have a camping permit. The cost is $8 per person or there may be a group rate. The local BC Forestry Recreation Officer (Vernon Forest District based in Vernon), Dave McIntosh (250) 558-1700, has assured us that we can buy our permits when we get there from a compliance officer who will visit us on site.


Day 0, Thurs, August 2, 2001 It will be up to the participants to find their own accommodation for the night before the trip. Consider staying at the Three Valley Lake Chateau (250) 837-2109, or at the Canada West campground (250) 837-4420 or the Smokey Bear campground /Boulder Mtn B & B (250) 837-9573 just west of Revelstoke. On the Sicamous side, there is the Homestead campground (250) 836-2583, just east of town. Please be reminded that this is HIGH SEASON for this busy area so attempting to reserve late may not be fruitful. Otherwise, you may have to sleep in your car or drive out early from home. Allow four hours driving time to Three Valley Gap from the west edge of Calgary. Don't forget the one hour time zone difference.


---

Day 1, Fri, Aug 3, 2001: Cottonwood Bay Recreation Site BC Forest Service. There are about twenty camp sites there with picnic tables, outhouses, fire pits, and a nice beach. No showers but a great swimming area.


---

Day 2, Sat, Aug 4, 2001 River Lea Campground, Bigg Creek area, BC (250) 547-6354 12km south of access to Mabel Lake Prov Park, Gail Powell. Picnic tables, fire pits (supplied wood), pit toilets. Showers. No stores and no restaurants.


---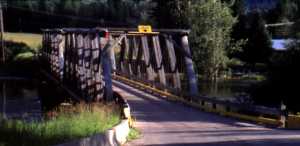 Bridge over Shuswap River near Ashton Ck
Photo Credit: P. LaGrandeur July, 1999


Day 3, Sun, Aug 5, 2001: Kingfisher Campground, Kingfisher, BC (250) 838-7730 Pat Brazier, operator. 27km east of Ashton Creek or 1km west of Kingfisher. Showers, concession stand (hot food, baking) with covered deck and picnic tables, store, grassy camping area with picnic tables.


---

Day 4, Mon, Aug 6, 2001 Homestead Campground, Sicamous, B.C. (250) 836-2583. Don Miller, proprietor. On Hwy. 1 5 km east of Sicamous where highway narrows from four to two lanes. Between Eagle River and highway. Showers, laundry, restaurant, wash rooms, swimming. Camp in grassy area.