the Elbow Valley Cycle Club Presents the
1999 Lake O'Hara Cross Country Ski Weekend

February 13 - 15, Saturday through Monday
Tour Co-Ordinator: Peter LaGrandeur
lagrandeurp@techworld.ca

Webmaster: P. LaGrandeur....................This page last updated 2005 Jan 29

Click here to go to the wrap up page for the tour with trip account and photos.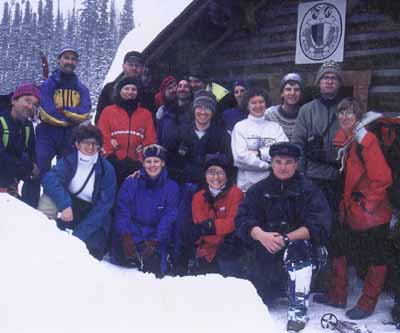 EVCC 1996 Lake O'Hara XC Participants
So here we are, at year number eight for the EVCC at the Alpine Club's Elizabeth Parker hut. Definitely a tradition that we want to maintain. This year it will be a three day sojourn amidst this world famous wintry wonderland. Remember that heavenly thick blanket of feathery snow on the roof of the hut and on the tree boughs? Remember that moonlit night ski through the area after supper last year? And the mexican theme pot luck supper? How about the gloriously sunny day when we went up to Mac Arthur Pass? And, of course, the outhouse with a view. Yes, you do remember? How could you forget. Well, we will be back to revel in it all again. Family Day weekend, Feb. 13-15, Saturday through Monday, 1999 is when it is relived.

The first day consists primarily of the trip in on the fire road which is usually skiier track set. Options that day include an excursion to the east end of Lake O'Hara along the south side of the lake. On the second day, we may consider a trip to the south of Lake O'Hara to the Opabin moraine and maybe even as far as the summit of Opabin Pass. The morning of day three could see us ascending MacArthur Pass to the low saddle between the adjacent mountain slopes, or a tour over to the small lake above the south side of Lake O'Hara, or exploring the trails in the direction of Morning Glory Lakes. Saturday or Sunday evening's agenda calls for a night ski through the meadows around the hut or down to Lake O'Hara.

We have our annual communal supper on Saturday evening with the perennial Mexican theme. Let's do it again Sunday evening with an Italian flair. Participant's meal contributions will be finalized at the pre trip meeting in Calgary prior to the trip. Since we are going in a little later this winter, the Lake O'Hara Lodge will be open for lunch for those who are in the area at that time.

Potential participants are to be made aware that this is NOT intended to be a mountaineering weekend. Nor has it been a telemark outing as so few in the past have had telemarking and avalanche management skills. Our intent is to stay away from any slopes prone to sloughing. We look for ski mates who are into the "group mode" who remain with the group and contribute to its well being and camaraderie.

All participants are reminded to have the basic training for winter back country activities. This includes:



Intermediate cross country ski technique
Back packing on nordic skis
Winter clothing and layering theory
Route finding and map & compass skills
Gear selection and field ski repairs
Nutrition
Winter survival
Standard first aid & CPR
Avalanche recognition & management skills



For whatever training you do not have, please book it ASAP. Calgary is probably just about the best city in the world with its plethora of high quality and low cost outdoor pursuits training courses. One possible place to take nordic ski and winter activity training courses is the University of Calgary Outdoor Program Center. Check out their web page or call them at (403) 220-5038.

Participants are required to have avalanche transceivers (and know how to use them), probes (not probe poles), and a sturdy shovel (has to be strong). Despite our plan to avoid hazardous slopes, it is always wise to be prepared for the worst, either with our group or to help with another.

If my recollection serves me correctly, there have been four romances ignited amongst participants who shared this weekend in this cozy log cabin buried in the snow nestled between the mountains, with two resultant weddings to date. For those looking for love, as well as good exercise in the great winter outdoors, will this be YOUR year??
---
Some Relevant Links for this Trip:
---
Pics From Previous Lake O'Hara Cross Country Weekends
---
Risk Acknowledgement & Acceptance of Self Responsibility
The Elbow Valley Cycle Club offers this trip on the understanding it is a Common Adventure where each participant conducts him/herself independently, makes his/her own judgements about safety and well being, takes full responsibility for his/her own actions, and contributes whatever he/she can towards the success of the trip. The Tour Co-Ordinator is not a leader or professional guide of any type and acts only to provide basic logistical arrangements for initiating and running the trip. The route, itinerary and all other aspects of this trip are only suggested and, as responsible tourists, each participant is expected to research everything prior to the trip to whatever extent he/she feels is necessary to determine that all is safe and suitable. Each participant is expected to possess any skills, equipment, fitness, common sense, etiquette, knowledge of applicable legislations, etc., to enjoyably and safely be involved in this activity. Each participant is the sole and final judge about his/her capabilit y to safely proceed w!ith this tour. All participants recognize financial loss, physical injuries and death to be real possibities facing anyone in the sport of back country skiing and related activities and agree to assume all risks and consequences. All participants agree to absolve the Elbow Valley Cycle Club, its organizers, administrators and agents of any liability arising from Club activities. Any person who does not feel confident or self reliant about their abilities or who does not agree with this philisophy should not participate on this tour.


**All participants must be EVCC members.**
---
The Budget As Approved by the EVCC Executive Committee Thursday, Dec 10
Budget
EVCC Lake O'Hara
Cross Country Ski Weekend
Alpine Club of Canada
Elizabeth Parker/
Wiwaxy Huts
1999 February 13-15
Family Day Weekend
Tour Co-Ordinator:
Peter LaGrandeur
compiled 1998 Dec 08
An exclusive group booking has been reserved through the Alpine Club of Canada under my own personal membership.
The exclusive group status entitled us to a discount.
Usual maximum winter EP Hut capacity is 20 persons.
Tour will be budgeted for 17 paying participants plus tour co-ordinator.
To allow for registrants who cannot attend, up to 25 bookings will be taken.
Expenses:
exclusive hut booking for two nights
$779.40
National Park Back Country Overnight Hut Fee
18
overnight hut users @
$6.00
x 2 nights
$216.00
photo copying of information package
18
packages @
$1.00
$18.00
long distance phone calls
$10.00
expense subtotal
$1023.40
$1023.40
contingencies - 5% of subtotal
$51.17
$1074.57
$1074.57
Income:
17
paying participants @
$63.21
each
=
($1074.57)
-----
-----
-----
-----
-----
-----
-----
-----
Participant Fee:
Charge Each Participant:
$63
---
Road Map Showing Access Route to Lake O'Hara Area
Topo Map Showing Access to ACC EP Hut (82N/8)
Click Here to Return to Top of Page
---